Fred Armisen & Carrie Brownstein's Secrets From The Portlandia Writers' Room
Posted on
February 20, 2014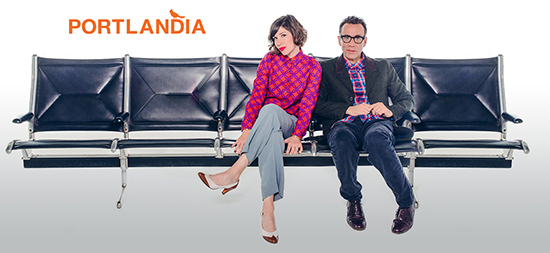 Portlandia is the little show that could. It's a show that, on paper, probably doesn't have mass appeal, as it touches on some very specific characters and situations that could be too narrow for a mass audience. And yet, even before it had made its debut on IFC, the show struck a nerve. The "Dream of the '90s" music video, along with the catchphrase "put a bird on it," were shared quickly and repeatedly across the Internet. The show rode its idiosyncratic success though four seasons (it returns on February 27th), thanks to Fred Armisen and Carrie Brownstein's off-kilter take on the small things in modern life: B&Bs, food trucks and lining up for brunch.
Season four promises some great opportunities for lampooning the same progressive, self-serious tropes targeted in the first three seasons. One episode shows the seedy underbelly of making "the next great vegetable" out of celery. Another episode explores the minefield that is combining expenses of a financially mismatched couple.
I recently spoke with Fred and Carrie about Portlandia's magic: taking very specific people and situations, and turning them into relatable comedy gold.
Karen Geier: Do you find truths within yourself when you create your characters and sketches?
Carrie Brownstein: The characters are permutations of us. When you choose to focus on what is normally just a fraction of your personality and really amplify that, you get an opportunity to assess what it would be like to embody that character 24/7, whether that's a more self-righteous part of yourself, an angrier part or a more sensitive one. I think our characters run the gamut of possessing those traits quite wholeheartedly. I think we do learn about the way that we interact with our environment and are flummoxed by situations that are meant to be inclusive, which suddenly become exclusive. Or, in overly rule-based situations, you'd think they'd make you feel alienated, but they almost end up making you feel special. This special coffee shop went ahead and made all these rules, making it really difficult to order, but that actually makes me feel wonderful. There's all these contradictions you end up actually sort of enjoying, because it highlights your specialness. I think we learned a lot about ourselves and our relationships in this show.
KG: Were you surprised at the early, rabid success of the show? Some elements of the show are hyper-specific.
CB: Of course we were surprised. You can't go into any creative endeavor with a sense of entitlement or an assumption that there will be an audience. You kind of have to go in feeling like you have to prove something. I think that sharpens the work. It forces you to have an intention and take risks. When we released "The Dream of the '90s" or "put a bird on It," we were wonderfully surprised. Like you said, the sketches are really specific, but that's why people can relate to them. They really dig into the minutiae of the situation. It deals a lot with how we communicate to each other, and these codes we speak back and forth that are shorthand for the kind of people we are. I think on its best day, Portlandia elevates those micro-situations we experience and brings universality to it, which makes it relatable.
KG: More and more sketch comedy shows have throughlines than before. Portlandia goes one step further, making you care about what the mayor is going to do next season. Is that a deliberate decision, or did you just have enough material for more stories?
Fred Armisen: That's what makes it fun for us to write. When we're in the writers' room, we do think about the mayor. We'll think, "the mayor would be perfect for this." We think about the impact of it later. We think about what would be fun for us to shoot on the day.
KG: On that note, is it the same for your many amazing guest stars? Do you consciously write a part for Roseanne as the temp mayor, for instance?
CB: We're all huge fans of the people who have come on the show. What makes Portlandia unique is that Fred and [executive producer/director] Jonathan Krisel and myself share is that we look at things in a similarly skewed lens. This year, we have Jello Biafra coming on the show. The people who come on the show share something with our sensibility, who showcase something bizarre or absurd or vital, and who would fit into the world of Portlandia. Sometimes, it's this wonderfully easy process, like sending them a text message. It's really exciting to have someone like Roseanne come on our show. It's nice to have the guests show a different side of themselves, like musicians who take themselves very seriously, and their music is considered earnest, they get to come on the show and show their sense of humor, which they are not always able to do. Jello Biafra is a perfect example. He really understood the role we had for him and had no qualms about demystifying his stature.
KG: Portlandia was a big part of IFC's rebirth, and there's a slate of shows that came after you that are also experiencing success. What's that like for you?
FA: It's nice to see, because IFC works so hard trying to develop shows that are a new kind of comedy. To see something grow, and to see comedians who are our friends, like Marc Maron and Scott Aukerman, be a part of it, that's kind of neat. It makes us feel like we're part of a group.
KG: Can you share any throughlines for this season?
CB: We really focused on character this year. I think you'll see a lot of the lives of regular characters like Peter and Nance, the women's bookstore owners, Kath and Dave, where we put those characters in a variety of situations putting them in conflict with their environment and testing their relationships. There's a lot about how technology infiltrates our lives. There's a story about celery becoming a vegetable on the level of kale.
Portlandia begins its fourth season on February 27th on IFC.
Source: New feed