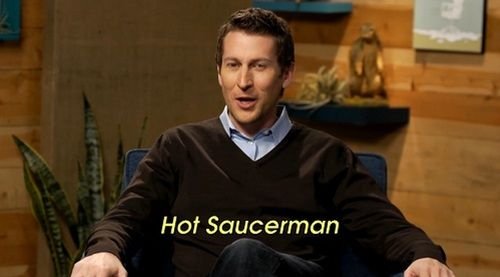 Scott Aukerman on Interviewing Pee Wee, Directing Justin Bieber, and Hiring Women
Posted on
December 17, 2013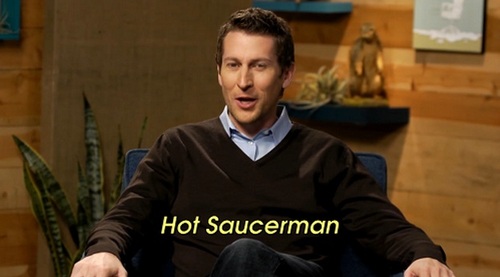 Scott Aukerman and I recently spoke about his Mr. Show days. Since then, Aukerman has built an empire: Earwolf Media produces not only some of the most popular podcasts with celebrity hosts (Including flagship Comedy Bang Bang, which Aukerman hosts once a week), but also Comedy Bang Bang the TV show. Aukerman is also the director of internet sensation Between Two Ferns. I recently spoke to him about what it's like to interview Pee Wee Herman, and more unusual things.
Karen: One of the harbingers of your humor is that you're the consummate straight man, ad you write a world around you where the stakes become exceedingly more absurd. Where does that sensibility come from?
Scott: It came about because I have these master improvisers on my show. When you have these amazing guys doing improv, you sort of have to tee them up correctly, and then get out of their way.
One of the most fun things for me is being the guy who guides it, and asks interesting questions. that change the improv, and change whatever planned elements there may be. i like to be the guy who transforms it into what it ends up being.
I was always a big fan of Mel Brooks and Carl Reiner's 2000 Year Old Man sketch. I think it's one of the biggest influences on the podcast, definitely. You'd never say Carl Reiner was the funniest dude on there, because he's just teeing it up, but he knows what questions to ask to lead to great improv.
Karen: One of the biggest triumphs of your podcasting career was your interview with Pee Wee. How did that come about?
Scott: It was something I really wanted to do. He's been a hero of mine ever since I was a teenager. I first saw him on David Letterman which is what made me want to go see Pee Wee's Big Adventure. He's someone I wanted to talk to for a long time. Then, I saw him doing his show he ended up taking to broadway. After that show he came out and did an hour long talkback with the audience. He did that for every single performance. It was incredible. He told all of these stories I have never heard before. He answered any question. I thought, "people need to hear this kind of stuff." He's such an amazing wealth of information about his stuff that I would watch a show with just him answering these types of questions.
I was really obsessed with getting him on the show for a long time, and I had been communicating with his publicist about it for months, and it was "yes, we should get him on the show," and it never happened.
Then, he happened to be in Austin, and the stars aligned, and he agreed to do the show. I was the most nervous I have been to do that show, and you can hear it in my voice. I did a lot of research before I did it. I re-watched his movies and episodes of his shows. On the flight to Austin, I was watching Big Top Pee Wee on an iPad. I also happened to be sitting two rows behind him on the plane.
I just think he's such a fascinating guy, and he was so forthcoming with everything. He's definitely not shy talking about anything.
It was really meaningful to me. We had a great time. Our mutual friend [Paul Rust] who writes with Paul Reubens, and helped us book him on our show for the Hallowe'en episode. It was really great.
Karen: One of your biggest viral successes online has been Between Two Ferns. Let's talk about the origins of that. It was originally part of a sketch show you worked on, right?
Scott: Yeah, we had done a sketch show, and it was kind of an interesting hodgepodge of live sketches and short films. We had a great cast for the show which included Paul Rust, Maria Bamford, Casey WIlson, James Adomian, Natasha Leggero, Bret Gelman and Ian Edwards.
We wanted to put cartoons in it and make all these cool sketches, and one of the things we did was Between Two Ferns. I asked Zach [Galifianakis] to do anything for it, and it was an idea he's had for a long time of hosting a Public Access Tv show and calling it "Between Two Ferns."
We didn't really know what that was, so we just set up a couple of chairs and ferns. Michael Cera also wanted to do something for the show. We just sort of improved it. We didn't have the roadmap for it that we have now. Our editor dan cut it all together, and in the editing room showed us how we could construct what appears to be a live interview out of an hour and a half of footage.
Karen: Were you surprised at how broadly it has been embraced?
Scott: It definitely was a surprise to us. We put it out on Funny or Die, when it had just started. Luckily, we had a version of it without the laugh track on it. There was another version with a laugh track from a studio audience who had screened it. It was really crazy how popular it got. We thought it was just a one-off until Jimmy Kimmel asked Zach to do another one for his show.
We just kind of kept doing it. We started to get people approaching us to do one, like Natalie Portman. It's fascinating. I've always been a part of cult things. I love Mr. Show and I love the fans, but this is the first time I've been a part of something where people are using the catchphrases. People from all walks of life knowing what it was, who weren't necessarily big comedy fans, like the LA Dodgers parody. It's interesting to have something that's part of a national conversation. We just make whatever we think will be fun for us.
Karen: And Justin Bieber was well behaved on set?
Scott: He was super nice and polite. Justin is a big comedy fan. He wanted to do it. We've chased so many people over the years. You always hear from publicist that "fill in the blank wants to do one." Then, we go down the road of writing one for them, and we end up on a phone call with their manager, and we find out that that person does not want to do one. It was their publicist's idea of something that would be cool for them. It's a big waste of time. When someone like Justin wants to do one, it's really fun for us.
We have a rule that it's a closed set. No publicists are allowed. It works best that way. We've been really lucky to work with great people.
Karen:You took great umbrage last year when you were lumped in with other show runners who had no women on their writing staff. You now have women writers (season 2.) how important was it to you to balance your team?
Scott: Eva is, by all accounts, a woman. Caroline, or writer's assistant, has written for us. I think that kind of "public shaming" about people not having women on staff can be a good thing. People need to change. It's a little different with our show. the first year we did it, we had five people on the staff. The best sketch shows are from a group of tight-knit people who've worked together for a really long time. It's a bit like saying, "How come there aren't a lot of women in your friends from when you were a kid?"
Once the show expanded, we needed to get different voices in there. It can be so easy when you're writing sketches if you're a guy to always write sketches with guys, to always assume that the police officer is going to be a man. We've tried to change it this year, but not draw a lot of attention to it.
My wife [comedian Kulap Vilaysack] just said to me the other day how impressed she is at how diverse our show is. We take great pains to have the casting on the show be very ethnically diverse and equal. It's something we're really concerned about and try to address our show.
I took umbrage because we were trying to address it when we were called out on it. I told them to watch out for The Birthday Boys.
If you look at Earwolf, we've tried to have a really diverse stable of hosts. Even my show can get a little "dudey" sometimes. Season 2 of Comedy Bang Bang is different. Some episodes, there's not a straight, white man to be found except me.
Comedy Bang Bang airs Friday Nights at 10 on IFC.
Comedy Bang Bang is part of Earwolf Media
Source: New feed