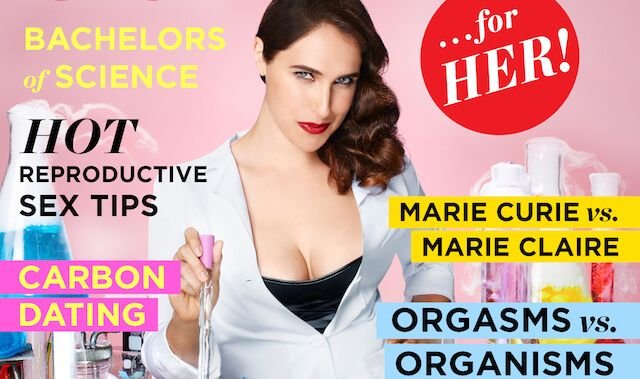 Parks and Rec Writer Megan Amram Teaches Women About Kale and Orgasms…Sort Of
Comedian and writer Megan Amram is a writer for NBC's "Parks and Recreation" and Comedy Central's "Kroll Show".  She was named one of Rolling Stone's "25 Funniest People on Twitter" and Forbes Magazine listed Amram on their "30 Under 30 List."  Amram has a brand new book out, "Science…For Her!" described as a "politically, scientifically, and anatomically incorrect "textbook" for female self-improvement.  Karen Geier sat down with Megan to talk about the new book.
---
As I sit at the nondescript hotel bar table, Megan Amram is eating a salad with a side of brussels sprouts. She's a woman who's living her message even off the clock. "I'm a real big vegetable fiend" she says. In her new book, Science… For Her! Megan shares how you can use life hacks like these to "get as close to your birth weight as possible." And that's why scores of women love Megan Amram.  A fresh voice on an incredibly feminist and positive show, Amram was really turned off by Gynoticians like Todd Akin making headlines for telling women how their bodies work, and making decisions for them. She began to ponder the larger question of the sheer volume of idiotic advice lobbed at women on a regular basis, and decided to write her book.
The book is written in the voice of "Megan Amram" who has a lot of best friends and one boyfriend (who might not be that into her.) The result is a brilliant satire.  When I sat down with Megan, I felt the chemistry immediately.
Karen Geier: Tell me about your time at Harvard.
Megan Amram: I did all types of theatre, (writing shows and performing shows) so much more than I did any other thing at Harvard. I studied psychology which I really loved, but my mom kept asking me if I went to any of my classes, because all I talked about was musicals. The comedy writing I did at school was writing musicals, and I think a lot of it is similar to television writing in that I wrote jokes and I figured out characters, and it's similar sorts of things, but I didn't know initially that I wanted to be a television writer. When it came to the end of my time at Harvard, I had a moment of "should I move to New York to become a musical writer or move to LA and try to be a television writer? I thought that, while they're both crazy things to pursue, TV might have more of an entry into it. It's still my dream, like Matt Stone and Trey Parker. I loved Cannibal! The Musical.
Karen Geier: Cannibal! Was delightful despite it being low budget. Do you think things are funnier when they are disheveled?
Megan Amram: Yes. You have to rely more on what you're doing. But also, with Mr Show, for example, it feels less dated because it's so low budget. They weren't even trying to make it look special when they made it. I think you have to go in that direction, or you need to go in the other direction. I worked on Kroll Show, and one of the things I loved about that is that it's so impeccably produced, where the fake reality shows all look like the shows they make fun of.
Karen Geier: Did you write for C-Zar?
Megan Amram: I wrote for the first season, and there would be point people for sketches, but we all wrote for all of them. I wrote for C-Zar and his dynasty of spin off shows. (There's been 12 of them now.) Nick is the funniest dude. My boss at Parks & Rec has said I laugh a ton in the room. They're all funny! I'm not going to pretend like I don't think my peers are funny. I do giggle a lot. I giggle so much I cry sometimes.
Karen Geier: Let's talk more about your connection to musicals and variety shows.
Megan Amram: I love watching that stuff so much. I love any sort of big show. I have an aversion to making it. I know a lot of comedy buffs are not open to having song and dance in their comedy. I feel like at work, I have to defend the musical as an art form. I don't really mix that into my comedy very much.
Karen Geier: When you moved to LA, you did some odd jobs. What did you do?
Megan Amram: I moved to LA with no real plan, which I highly recommend (I don't really. It's incredibly stressful.) I was an extra and a seat filler. I was a seat filler for some daytime talk shows, which was super funny. I could have made a career of it. Unfortunately, I got hired to do some other things.
Karen Geier: "Science…For Her!" seems like a natural heiress to "I Like You" and "Simple Times" by Amy Sedaris, which is similarly in that regressive advice area. Let's talk about how it came to be.
Megan: I'm definitely into the first person to satirize this advice genre. [Sedaris's book] is very different because it's from a different era. I think mine satirizes a specific type of magazine that I grew up with. I thinking some people read the book and thought I was just going after these magazines because they are sexist, but really what I was trying to get across was that specific thing where people like Todd Akin were trying to explain to women how their bodies worked and how the world works. That was the crux of what I wanted to tackle in the book. My response was "if you think we're that dumb, then I'll show you how dumb we can be and create the answer to that."
Karen: You've said in previous interviews that you were a huge nerd in high school. What kind of nerd were you?
Megan: I think that it's funny that famous, beautiful actresses go on talk shows and always talk about how they were nerds. I don't actually know if Jennifer Lawrence was a nerd, but part of me feels like "please don't take this away from me!"  I was on the Science & Math team. I did National History Day and did crossword puzzles every day.
Karen: If you had to explain what type of comedy really works for you, what would it be? You've mentioned before being a big fan of Eddie Pepitone
Megan: Eddie's tweets express his character so well. You know exactly "the character" even if you've never seen him live, you can get it. His tweets are so nihilistic and yet so silly. That is what appeals to me about every writer or comedian that I love.
Karen: Parks and Recreation is a unique show for many reasons, but what makes working there special to you?
Megan: It's a "gentle" show because the people who write for it value that. It's really nice to write for a character who is really smart, and has a good head on her shoulders, and is an optimism.
Karen: Do you think "snark" is sometimes mistaken for "stakes?"
Megan: Yes. One of the things that's great about the show is that the characters care so much about little things. If you live in a big city, you might not care about a Harvest Festival or a miniature horse.
Karen: It's no secret (star and executive producer of "Parks & Recreation") Amy Poehler is a feminist, and feminist themes come out in the show in unexpected ways (for instance, Andy Dwyer taking a Women's Studies class, where we learn about Ron Swanson's staunch feminism) Talk to me about how you make those ideas funny and still make a point?
Megan: Amy has a lot of say about the show, even though she's not in the writer's room, but my boss had made it a point to express those ideas by hiring people who are feminists to start. To make a good writer's room, you just need a lot of different stories. Diversity is just about different types of people and their stories, whether they are different racially or by religion, or anything really.
It's so badass to me that Ron Swanson's family is a matriarchy. All the women in his life run the show. He is so strong, but the female Swansons are the ones who really kicked ass. It's such a cool thing to me. If I ever made a show, regardless of whether it was "about" feminist values, it would still have that layer in the show. Ron isn't about meat and wood. I think that's why feminism can be in the show. It's just another facet of people's values.
Karen: When you talk to authors about reviews of their book, you often get to hear their least favorite review. How has the reception been?
Megan: I love the reviews, because they are exactly how I thought they would be. I hoped some people would find it funny, and some people wouldn't at all. Some people are really confused by it. The book doesn't have a bio of my real self in it. It only talks about the fake Megan who is obsessed with her boyfriend.  I wanted the book to appear as an artifact that was so bizarre that you have to think about it a lot. The reviews have reflected that.
Karen: If you had carte blanche to write a show yourself, who would you write it for?
Megan: I think one of the best shows of all time is a show called The Comeback. When Jan Hooks died earlier this year, Tina Fey bravely said that Jan should have had a huge career. Even hilarious, beautiful women of her time weren't' getting recognition like they should. That's something really interesting to think about. We're at the point where women are now getting vehicles. I hope that's how it works now, and that women aren't going to fall through the cracks.
Karen: If you could reboot a show, which show would it be?
Megan: The show that is weirdly precious to me because I saw it in high school is a show calledClone High. It came at a time when you really love stuff. It's such a funny, silly concept. It's so much smarter than MTV shows usually are.  That, and The Twilight Zone.
---
Megan Amram's Book Science… For Her! Is available now wherever books are sold (and has an unmissable audiobook.) You can follow Megan at @meganamram on Twitter.