The Great American Pitchfest: Q &A with founder, Signe Olynyk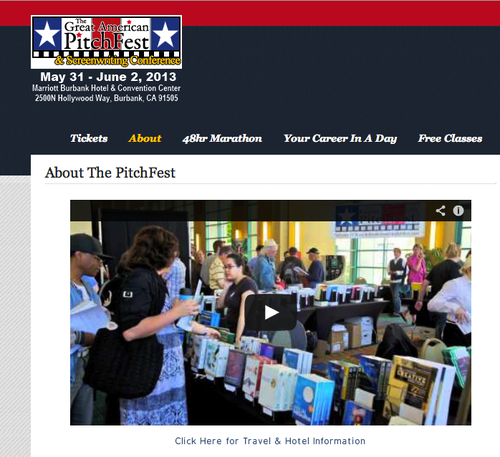 Most industries have been completely transformed by the internet. Where at one point, you needed to "know a guy" to get the best plumber or brakes specialist, there are now sites like Homestars and Gigpark. If you needed to reach out to a huge company to raise a complaint, you needed to do a lot of research. Now, a 10-second search will yield you not only the company's contact info, but the information of several executives who can help you with your question.
But there's still one industry which hasn't been made more open because of the web: show business.
This comes down to two reasons: firstly, content creators have naturally been worried about potential losses from the internet, so it's not always a favoured method of doing business. Secondly, the way business has been done in the past in the entertainment industry (just like venture capital) is by personal introductions. You still have to know a guy.
Signe Olynyk was a producer who saw the need to get "the guys" into rooms with new writers. She saw incredible upside for both parties: It allowed writers to up their pitching game, and get comfortable with the protocol of pitching, but for the studios and agents, they had access to a new stream of talent, and fresh ideas, and when you trade in ideas, being ahead of your competition is a powerful draw.
Karen: Where did the idea for Pitchfest come from?
Signe: The idea for the Great American PitchFest was born out of frustration, and a feeling that writers were being taken advantage of. I was in line at another event, waiting to sign up for pitches. It was an extremely long, disorganized, and arduous process that left everyone involved very unhappy. Everyone there was a writer with a script who wanted access to industry execs, and the idea behind that was a good one. But it wasn't being executed well. It was at some point during the many hours I was waiting in that line that I thought, "someone should do this in Canada, and do it better." And then, after doing the first one in Canada, I thought "someone should do this in the US and do it better than it is being done." That's how it became a Canadian and a US event.
Karen: Some would say that being a writer is the ultimate entrepreneurial experience, since, to start, everything is on spec, and you're constantly pitching. What can writers teach entrepreneurs? What can entrepreneurs teach writers?
Signe: Wow. Great question. When you are a writer, you need to be a creative thinker. You also need to be able to organize those thoughts, communicate them clearly on the page, and then market your work, sometimes self-publish and distribute it yourself, network with others, and pitch yourself and your writing through every step of the process. As a creative being, you have to constantly think of new ways to not only create great, original work, but also in how to reach your fans, your audiences, and ultimately, the buyers of your work. To be a writer is to be an entrepreneur, and vice versa. You must have, or develop, the skills to be both.
Karen: Why did you choose to disrupt an industry which is extremely analog (you need to make many connections to be successful)?
Signe: My only reasons for starting the pitchfest were because I wanted to help others to get their films and tv shows off the ground. I had already been writing and producing for a few years, but I was frustrated by the process and wanted to help make it a little bit easier for others to do what I was also trying to do. I didn't have any connections in Los Angeles when I started this, but I picked up the phone and started emailing people, and made those connections. It's like that with any business. You need to make connections for you and your business to grow.
Karen: How did you originally pitch this new method to decision makers?
Signe: If you are in the film and television business, you are familiar with pitching. Since the industry was already familiar with the process, and had only experienced the disorganized and less professional versions of pitching events, it was really just a matter of doing it right. For example, other events didn't give maps or directions to execs, or provide parking. They didn't have coffee or schedule breaks. The execs were promised payments, but then had to chase organizers to fulfill their commitments. Perhaps the biggest thing we had to overcome was the reputation of other pitching events, but once execs gave our event a try, it essentially raised the bar for all pitching events. Those execs then told other execs, and word spread. We have never had a problem with executives wanting to attend our event. Our word of mouth for executives and for the delegates who attend is our biggest and best advertising.
Karen: Did you have a lot of push back in the beginning?
Signe: I think there was some mistrust initially, but that was before people experienced it. The writers who attend, the executives who hear pitches, the guest speakers, panelists and special guests all have a tremendous experience, and many come back each year. We have always approached this event as 'what would we want' as writers, and essentially, we created an event that we wanted to go to. We feel we provide an important service for the writing community that we are part of.
Karen: How did you know the Pitchfest was successful?
Signe: Success to me is measured by the overwhelming appreciation that the people who experience our event express to me and my team. I constantly run into people at airports and film festivals, and they gush about what the event means to them. Executives tell me about writers who they hire for projects that they met at our event. Writers whose scripts are optioned after pitching to execs at the pitchfest. Agents and Managers who sign writers who pitched to them at the pitchfest. At each event, there are 500 writers and 120 execs. With each meeting being approximately five minutes in length, there are literally thousands of meetings that occur in just a few hours. Those thousands of meetings result in relationships, and those relationships are crucial to building a career. We know what it is like to have dreams of having our movie and tv scripts produced because those are dreams we share with our attendees. We take those dreams very seriously.
Karen: What was your biggest obstacle along the way? Your biggest lesson?
Signe: The biggest lesson I learned about Hollywood is about trying to identify who is 'real'. There is so much talk in this business, and one day, I started to notice that the people who were telling me about big deals for their projects were still telling those same stories two years later. They weren't progressing, and they had a tendency to cling to the excitement of their 'old news' because their projects weren't really going anywhere. Yet, their stories made it all sound so promising and exciting, as if they were right on the verge of major studio success. I came to learn that many people in this industry are happy to live on that cusp, and really, they are more excited about being on the periphery of the business than they are in actually doing the hard work of being in the business and getting their movies made.
Karen: What advice would you give to first-time entrepreneurs?
Signe: Doing what I do takes everything I've got, and it has to also become a big part of your lifestyle. If you have a business that you feel that passionate about, go for it. But if you can develop a business that also gives you more of a balance so you can also enjoy and experience your life, and make a decent living at, you owe it to yourself and your loved ones to do that instead.
Karen: What pitching advice have you learned along the way?
Signe: Pitching is something that intimidates so many of us, but in actuality, it is something most of us do every day without realizing it. When you go to a job interview, you are pitching yourself. When you convince your friends to see the latest Val Kilmer movie, you are pitching. When your kids barter with you to stay up late or do their homework later, well, they are pitching you. It is a necessary skill to get what you want, and to effectively communicate with others. Pitching is conversational, and it is always about building a relationship. Selling is a secondary goal. Always.
Karen: What else would you like people to know about the Pitchfest?
Signe: The Great American PitchFest is celebrating ten years of helping to connect writers and executives. It is the only event run by writers for writers, and we are very proud of the work we put into this event. We do it because we care about other writers, and we feel we make a difference. We provide a valuable service to the community that we are very proud to be part of, including dozens of excellent free classes on screenwriting, how to break in, how to pitch, how to write a screenplay, etc. Your readers can learn more at www.pitchfest.com or by emailing me directly with any questions at info@pitchfest.com.